The Race Village is located outside the Carsington Water visitor centre entrance opposite the main event field where the race finish is. This is the area where runners and spectators can gather before and after the race.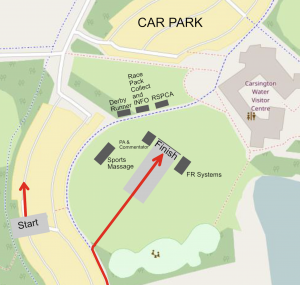 What is in the Race Village?
Race number collection point – number collection will be open from 8.00am to 9.15am
Information point – open from 8am to 12.30pm (approximately 1 hour after after the main race finishes)
Race crew meeting point
Warm-up area for runners
Baggage storage – located at the RSPCA shop in the courtyard of the Carsington Water Visitor Centre which will be clearly signposted. Be sure to attach a baggage label with your race number on it. The baggage storage is managed by the Derby & District RSPCA.
The finish line!
Technical T-shirt collection point.  There may be other items for runners to take away with them
RSPCA charity stall
Derby Runner retail stall
Sports massage – provided by Andra Health
Please note: The Carsington visitor centre will not be open until 10am on race day. New Leaf Catering, who operate the cafes at Carsington will be opening their downstairs cafe at approximately 8.30am.